Photography exhibition inaugurated in Dhaka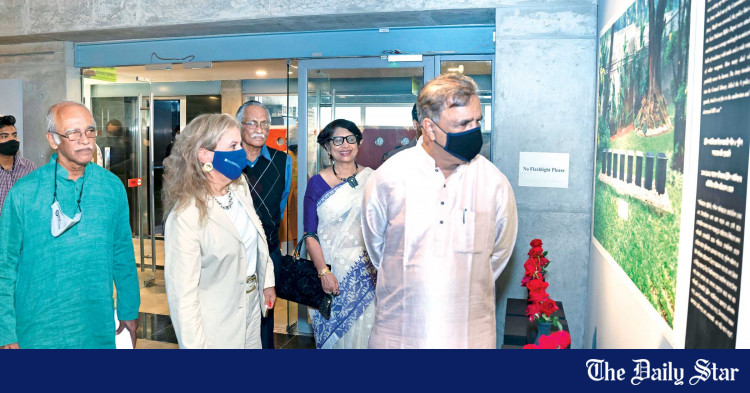 Celebrating 70 years of British Council operations in Bangladesh
British Council President Stevie Spring CBE, Minister of State for Cultural Affairs KM Khaled, actress and cultural activist Sara Zaker, Liberation War Museum Board of Trustees, and senior British Council officials visited the photo exhibit at the museum yesterday. Photo: Collected
">
British Council President Stevie Spring CBE, Minister of State for Cultural Affairs KM Khaled, actress and cultural activist Sara Zaker, Liberation War Museum Board of Trustees, and senior British Council officials visited the photo exhibit at the museum yesterday. Photo: Collected
A photography exhibition featuring rare photos – 'UK 1971: People's Solidarity with the Liberation of Bangladesh' – was launched yesterday, marking 70 years of British Council operations in Bangladesh and the Golden Jubilee of the independence of the country.
The exhibition at the Liberation War Museum in Dhaka features 40 photographs, highlighting the public movement in the UK for war. From Nottingham to Birmingham to London, this archival collection documents the Bengali diaspora as they raised their voices in
For all the latest news, follow the Daily Star's Google News channel.
solidarity for a liberated Bangladesh in 1971.
The British Council, in partnership with the Liberation War Museum, organized the exhibition which was opened by British Council World President Stevie Spring CBE and Minister of State for Cultural Affairs KM Khaled.
Speaking at a press conference on the occasion, Stevie Spring CBE said the exhibit was a reminder of the British public's massive outpouring of support for the Bangladesh liberation movement.